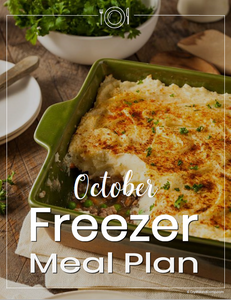 Freezer Meal Plan October
Do you struggle with getting dinner on the table? 
If you've never tried freezer cooking, now is the time to do so. It is a game changer and it is what helps this mama with six growing boys at home get dinner on the table at a decent hour each night! 
Each month we create a new menu and it includes seven recipes, grocery list, and assembly instructions for freezing the meals. 
I want you to keep in mind that you do not have to make these meals only in October. They are great for any month of the year. This month we do focus a lot on comfort food, but I personally love comfort food year round. 
Also, these do not have to be done as freezer meals. You can assemble these  recipes all at once and put them in the fridge and cook them one at a time during the week. OR, just make the recipes one by one on an as needed basis. Whatever works for your lifestyle. 
These are the recipes included in the October pack:
Shepherd's Pie
Ultimate Pumpkin Pecan French Toast Bake
Bean and Meat Chili
Chili Mac & Cheese
Crockpot Apple Butter Pork Chops
Creamy Chicken & Rice Casserole
THIS IS AN INSTANT DOWNLOAD. NOTHING IS MAILED TO YOU. START CREATING FREEZER MEALS INSTANTLY.