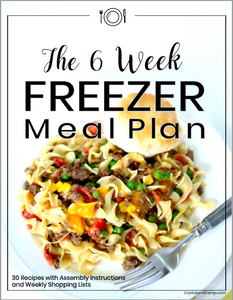 6 Week Freezer Meal Plan
I am a busy mom with six children still at home. You know what saves me every single week? It makes meal planning super easy and it makes getting dinner on the table a breeze?
Freezer meal planing. 
It literally is my saving grace.
I spend one hour assembling a much of meals. I freeze them. Then, one by one I defrost them and make dinner night after night. 
Here are six weeks of some of my favorite freezer meal recipes. 
We include a shopping list, assembly instructions and five recipes for each week. 
Here is a list of the thirty recipes you will receive in this instant download. 
SIX WEEKS FOR FREEZER MEALS 
Week One:
Freezer Friendly Lasagna
Crock Pot Red Pepper Chicken
Crock Pot Chicken & Black Bean Casserole
Lime Garlic Chicken
Crock Pot Beef Fajitas
Week Two:
Taco Bake
Orange BBQ Chicken
Chicken & Black Bean Enchiladas
Creamy Beef Noodle Bake
Tex Mex Quinoa Stuffed Bell Peppers
Week Three:
Classic Spaghetti Sauce
Slow Cooker Chicken Stroganoff
Indiana Chowder
Crock Pot Candy Chicken
Easy Lemon Garlic Chicken
Week Four:
Mexican Chili Lime Chicken
Slow Cooker Chicken Parmesan
Slow Cooker Mediterranean Chicken
Beefy Mexican Rice
Slow Cooker Chicken Teriyaki
Week Five:
Pizza Casserole
Make Ahead Seasoned Hamburger Patties
Easy Chicken Pot Pie
Lemon Pesto Chicken
Slow Cooker Chicken Cacciatore
Week Six:
Spinach & Mozzarella Stuffed Meatloaf
Skillet Ziti
Chicken Broccoli & Rice Casserole
Crock Pot Chicken & Stuffing
Hamburger Soup